Our Team
Schulz Logistics, LLC
Joe Schulz
Owner
14 years – I have spent my entire life involved or learning about transportation and business. I grew up working for our family trucking company, Schulz Transportation. It had always been a dream of mine to start my own company, and I felt like a freight brokerage was a perfect fit!
Schulz Logistics spent a number of years as nothing more than an idea until a family member of one of our employees became interested in moving to Lincoln. Robby had experience starting and running a freight brokerage. This was the event that set Schulz Logistics in motion. With an employee that had experience in what I was looking to do, Schulz Logistics became a reality! 3 years and 4 additional employees later, Schulz Logistics has become a successful standalone company! We have worked with over 1,800 carriers and successfully arranged transportation for over 8,000 loads.
In my spare time I enjoy spending time with my kids, golfing, or being outdoors!
Robby Nickeson
Dispatcher
3.5 years – I have been at Schulz Logistics for almost 3 years, beginning with the startup of the company. I especially enjoy the daily involvement and interactions with the customer/carriers. Every day brings something new, I really enjoy the variety that comes with my job!
Outside of work, I enjoy golf, college football, and spending time with my wife (Kendra) and 1-year old daughter (Mia).
Before Schulz – I worked as the Frozen/Ice Cream/Dairy receiving supervisor for 9 years in Norfolk, NE.
After that, I worked for a small trucking company in Norfolk as a Dispatcher/Broker for almost 3 years and a dispatcher for a tanker company for 3 years, also in Norfolk, NE
Christy Tripp
Dispatcher
1.5 years – I have been at Schulz Logistics for 1 year. Prior to my employment here I worked in customer service in the manufacturing industry. I was also previously employed by Schulz Transportation in dispatch then I moved to KS and moved back to NE and here I am again but with Schulz Logistics. I enjoy my position with Schulz Logistics. We work together in one big open office and are one big family here.
I am married with 1 son and 2 grandchildren. I am from Memphis TN and most people recognize me when they talk to me on the phone from my southern accent. I have lived in Nebraska for 23 years.
Nebraska is home to me but I am still a Tennessee fan and wear Tennessee Volunteer orange. Riding my motorcycle, spending time with family, and any outdoor activities are things I do outside of work, at least during the summer. In the winter, more family time, and good movie are always on my list of things to do and stay warm.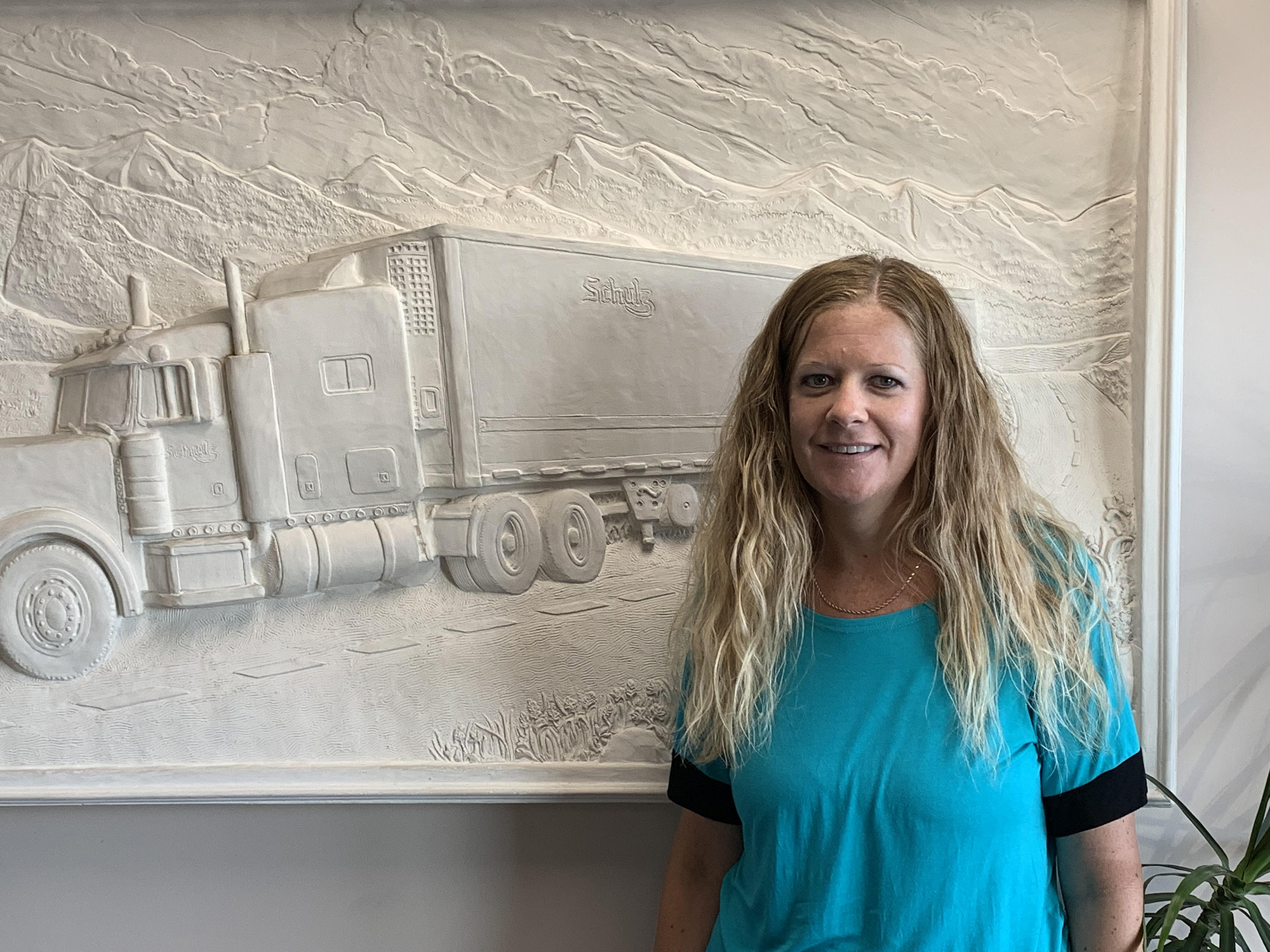 Mandy Moore
Accounting/AR/AP
1 year – I am the Accountant for Schulz Logistics and have been with the company for one year. I am responsible
for the day to day accounting duties such as invoicing clients and paying carriers.
I find the transportation industry fascinating and learn something new every day from those who have been here and have more experience. There's a great group of people who can make even a stressful situation comedic.
I am originally from West Point, NE and moved to Lincoln after graduating from Nebraska Wesleyan University. I have been working in the accounting field for all of my professional life and have spent time as an auditor as well as doing accounting work for various manufacturers in Lincoln.
Outside of work, I enjoy spending time with my husband, Chris, and two boys, Zane & Ace. They are active in various sports so a lot of our time is spent chauffeuring them and watching games and practices. I also enjoy reading and walking/running. And, if there is a rock or 80s hair band concert in town, there is a good chance that I'll be there (Motley Crue is my favorite!!)
Heather Wells
Dispatcher
New HIre – I just recently started here at Schulz Logistics. I am learning the brokerage side of transportation. I enjoy the atmosphere here, and work with a great group of people.
I spent the last 14 years as an office manager at a large distribution center that shipped and received pork products.
In my free time I enjoy making countless amounts of memories with my son Caden who is 25 and my
daughter Zoe who is 17.  Watching them grow up has been a fulfilling experience. When I am not with
them, you may find me listening to live music or screaming at the tv when a KU basketball game is on.